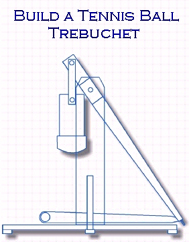 Tennis Ball Trebuchet
Build your own Tennis Ball Trebuchet Catapult with these detailed, easy to follow plans and instructions. When built, this trebuchet stands nearly 6 feet tall in the fired position and will throw tennis and racquet balls, as well as small water balloons.
Great Project
Perfect for school science projects and science instruction, Six Sigma and Design Of Experiment (DOE) training, playing fetch with the family dog, or just plain fun.
Easy to Build
Uses common, inexpensive and easy to find building materials, all available at your local home improvement store. Basic woodworking skills and tools are required, but the straight forward design requires no complicated layout or joinery.
This complete plans package includes:

Parts Shopping List
Measured Drawings and Dimensions for all parts
Assembly Drawings
Step by step Assembly Instructions
Step by step Tuning and Firing Instructions

All the information you need to complete your project quickly and easily.



Buy Multiple Plans and SAVE!
| | |
| --- | --- |
| 2 Plans | $19.95 |
| | FREE Shipping |

| | |
| --- | --- |
| 3 Plans | $24.95 |
| | FREE Shipping |

| | |
| --- | --- |
| 4 Plans | $29.95 |
| | FREE Shipping |

| | |
| --- | --- |
| 6 Plans | $36.95 |
| | FREE Shipping |
Catapult and Trebuchet Plans
Tennis Ball
Trebuchet

$12.95
FREE Shipping


Tennis Ball
Trebuchet Plans